How to use the ORCHID website
ANKC Members
The ORCHID website stores health results for your ANKC registered dogs. Here is what you can do:
How to view health results
ANKC members can login with their ANKC person member number and password. This is done on the home page at the top right of the page as shown in the screen shot below.

After clicking the Sign In button the screen below will appear. Click on "Search existing exam results".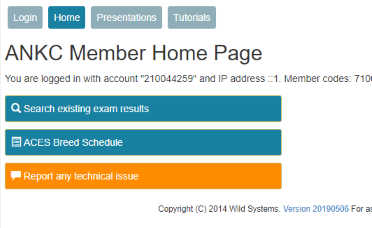 The search results page appears as below. Follow these steps:
Select the "Exam type" from "Hips/Elbows" or "Spine".
Select the Breed or leave it blank to see results for all breeds.
Select the field to search from "Registration", "Microchip", "Animal name" or "ExamId".
Select to see all public plus your private results or just your results.
Enter a "Search string" or leave it blank to match all then click the "Search" button. Matching entries will be listed below.

Note that sometimes only the hip score has been entered and no elbow score have been entered. In this case the elbow scores will show a double asterisk (**). Note also that there may be more results than will appear on one page in which case its "paged" so click the Prev or Next buttons to view the previous or next page of results.